COLOURED/PRINTED GLASS
OPEN UP TO NEW COLOURS!
COLOURED/PRINTED GLASS
DAGLASS offers ceramic printed glass with the use of screen printing method. This technique guarantees high-end quality print all over glass surface, with the possibility of choosing from a wide range of patterns and colour palette. At the same time ensures high mechanical resistance and adhesion between the print and the glass.
DAGLASS is also an owner of a highly effective painting robot, which provides quick and smooth coating using resin, water, or ceramic paints. Coloured glass is thermally tempered. Any mechanical processing – cutting, polishing, grinding, and drilling holes – is possible only before tempering. It ensures glass' high mechanical and temperature resistance.
We offer all colours possible from the RAL pallet. According to the client's wish, we can match the colour to the delivered template and perform such elements as colour blends or frames on the glass. With many years of experience in glass printing, the constant development of the machine park, and testing new solutions, we aim to perfectly adapt DAGLASS's production to our customers' needs.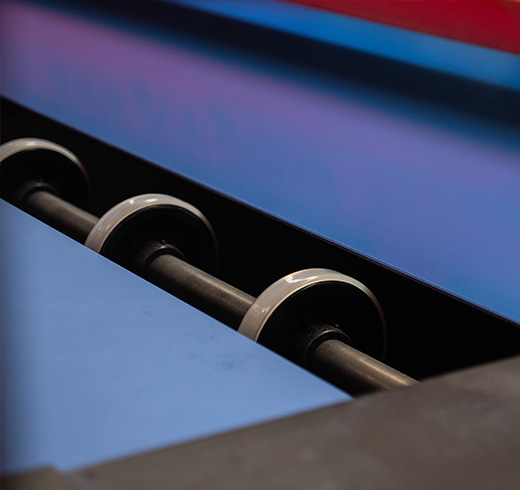 PROPERTIES
High quality of the print with the possibility of choosing from a wide range of patterns and colour palettes

Quick and even application.

High resistance to weather conditions.

High mechanical resistance.

Many colour options to choose from.

We can perform prints on any glass – standard float, anti-reflective, NON-GLARE, antiseptic NANO-BARREN ™, diffused, diamond.
APPLICATIONS
Coloured glass may be applied almost everywhere – from interior design and furnishings, small decorative elements, to modern

building glass. It is frequently used in exterior architecture, especially coloured facades, glass balustrades, or other glazings, additionally ensuring sun protection.

Decorations and furnishings

Partition walls

Wall cladding

Elevator shafts

Railings

Glass floors and platforms

Glass facades of buildings

Glass roofing and skylights