DIGITAL SIGNAGE GLASS
DON'T MISS A THING
IDEAL FOR OUTDOOR OR HIGH AMBIENT LIGHT APPLICATIONS
Digital Signage Glass is made according to "D.A.GLASS SMART TECHNOLOGY" as a trade mark, which is very unique and belongs only to D.A.GLASS company. Thanks to that the surface morphology of the glass produces less pixelation than other currently used solutions.
Nobody except D.A.GLASS has achieved such a small and even surface porosity, which distinguishes us from ammonium bifluoride or (HF) technique of etching.

Low reflection, high resolution, superior durability and anti-newton ring,

For aviation display, military and other high tech display,

Can be heat tempered, laminated or chemical strengthened,

Available from 60 gloss to 130 gloss units,

Can be etched on one or both surfaces,

Can be etched with AR – antireflective treatment for better resolution.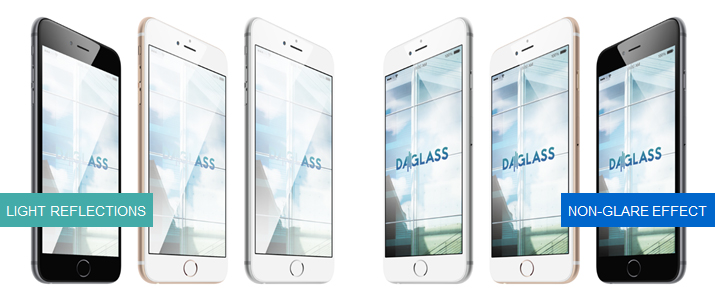 Electronic Displays,

Cover Screens – monitor face plates,

LCD Displays,

Computer Screens,

Projection Monitors,

Advertising Panels – outdoor electronic monitors & systems,

Touch Screens,

Building Facades,

Medical Instrumentation.
THIN GLASS WHICH REDUCES REFLECTION EFFECTS FOR DISPLAYS
Non-glare glass eliminates the effects associated with the reflection of light. As an effect of the controlled scattering of light reflected from the surface of the display the perception of the image is significantly improved.
NON-GLARE BASIC: eliminates the effects associated with the reflection from the surface of the display.
NON-GLARE PREMIUM: Thanks to this application, the quality of the colors and the resolution of the image is incredibly increased. Better visible image parameters were obtained by improved light transmittance.